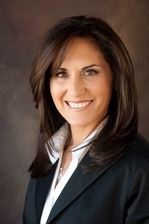 Licensed NYS Salesperson
Jamie has been an attorney for 17 years, which began as an associate with Samuel & Weininger of Lake Success, NY and continued as president of J. Persky & Associates, P.C. in Melville, NY and New York City.
"I view the real estate industry as another extension of helping people get to where they want to be, whether they are upsizing, downsizing or relocating," explains Jamie. "The current economy allows for more affordable home options, giving first- time home buyers a long-awaited opportunity to move to Long Island and take advantage of the great schools, safe neighborhoods and active lifestyle that Long Island has to offer. Because of the stabilization of the housing market, people no longer have to put off their retirements or delay selling or buying their homes. I am delighted that I can be instrumental in assisting them through this process. "
While some may find the business aspects of selling or buying a home to be daunting, Jamie says her legal experience is a compliment to the service she offers. "My legal background has not only provided me with broader knowledge than is usually possessed by real estate brokers, but allows me to offer clients the benefit of more than a decade of experience in effectively handling complex negotiations and litigation. I bring to the table an impeccable reputation for dedicated service and accountability."
Homes By Mara President Mara Navaretta says she is excited to have Persky-Mitchnick on her team. "Jamie is someone who is well-versed in client relations and understands the meaning and value of service," explains Ms. Navaretta. "She is a terrific asset to our operations and the array of clients we serv
A graduate of SUNY Binghamton and Hofstra School of Law, Ms. Mitchnick has lived in Syosset, NY for 20 years. Before joining Homes By Mara in January 2011, she achieved the rank of Executive Area Manager with the internet–based health and wellness company, Arbonne International. Through her association with this California based company, Ms. Mitchnick was able to help herself and others supplement their existing income while working home-based. As a corollary to her work with Arbonne, she founded and continues to administrate the not-for-profit community group, The Mid Island Women's Network, as a resource for helping women make the business and personal connections they need in order to get to the next level in their lives.
This is the moment that you should enjoy the most; looking at the available properties in Long Island; imagining yourself living in the home that you have always dreamed about. You don't want just another database that gives you rehashed property descriptions. You want to walk around the neighborhood from the comfort of your own home.