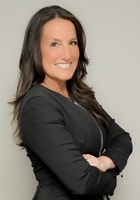 Licensed NYS Salesperson
An attorney by background, Nicole recently joined Homes by Mara as an Associate Broker, following a 20+ year career in the financial services industry working with some of the leading banks and trust companies in the world, which she believes is a great benefit for the top-notch service and attention she is dedicated to delivering to real estate clients.
Nicole spent a good part of her career in the Wealth Management sector, particularly having responsibility and accountability for managing high net worth client relationships and administering their trust and estate accounts with a range of asset types, including cash, stocks, bonds, and real estate. This afforded Nicole the opportunity to work closely with real estate brokers to list, show, and sell properties. Nicole also spent several years in Risk & Compliance, with responsibility for managingrisk and ensuring that banking laws, rules and regulations were being met. Throughout her tenure on Wall Street, Nicole's goal was to strive to achieve the best possible client experience, including delivering excellent results with the highest standard of service, while, at the same time, protecting the client and firm from risk.
In addition to her professional experience, Nicole gained her own personal experiences as a buyer and seller of real estate in Manhattan and Long Island, which opened up her eyes to her own personal needs and wants as a real estate client. "While I know that the real estate business is highly served and competitive today, I believe I have skills and competencies that will serve real estate buyers and sellers well, and I look forward to bringing this experience to Homes by Mara. I simply could not have asked for a better opportunity and could not be happier."
Nicole earned a BA from the University of Miami in Coral Gables, Florida and a JD from New York Law School in Manhattan, NY. Nicole speaks fluent French, in addition to English. She lives in Woodbury, NY with her husband and three children.
This is the moment that you should enjoy the most; looking at the available properties in Long Island; imagining yourself living in the home that you have always dreamed about. You don't want just another database that gives you rehashed property descriptions. You want to walk around the neighborhood from the comfort of your own home.