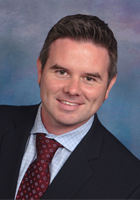 Licensed NYS Salesperson
John brings with him a strong mortgage background. In addition to being an agent at Homes By Mara, he is currently vice president with mortgage consultant company Matchbox LLC in Woodbury, NY. His prior work includes serving as operations manager with national mortgage lender Premium Capital Funding in Jericho, NY and as trade support analyst at Morgan Stanley in New York, NY.
John says his mortgage insight is a great complement to his additional concentration in real estate sales. "In working on the financial side of real estate transactions within today's mortgage arena, I have a strong understanding about mortgage guidelines and the finances associated with home ownership," he explains. "Since mortgages are a mainstay when it comes to real estate, I can share with home buyers and sellers my personal mortgage knowledge and perspective as it relates to the current housing market and their specific homes of interest."
As a Long Island native who has lived within various communities that include Seaford, Oyster Bay, Port Washington and Huntington, John plans to capitalize on his familiarity of these areas to help broaden Homes By Mara's reach and accessibility.
Mara says John's mortgage intuitiveness and vast Long Island neighborhood connections are a great asset to her team and clientele. "In having someone like John working with our home buyers and sellers, they are able to gain an even greater real estate perspective and direction. Adding to this benefit is John's knowledge regarding Long Island's various communities, which enables Homes By Mara to continue its mission in broadening its reach and accessibility to more north and south shore areas."
John is a C.W. Post Long Island University graduate with a Bachelor's Degree in English. His work with the mortgage sector recently resulted with his designation among National Mortgage Professional Magazine's "Top 40 Under 40 Most Influential Mortgage Professionals."

This is the moment that you should enjoy the most; looking at the available properties in Long Island; imagining yourself living in the home that you have always dreamed about. You don't want just another database that gives you rehashed property descriptions. You want to walk around the neighborhood from the comfort of your own home.