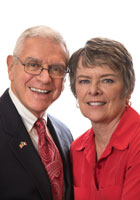 Meet

Marilyn & Frank Urso
Licensed NYS Salesperson
The Urso's were the owners of Long Island Village Realty, Inc., in downtown Syosset, NY for, over 20 years. They joined Homes By Mara Realty in January 2017 and are a tremendous asset to the Team.
Both Frank and Marilyn Urso have earned numerous REALTOR Certifications and Designations since becoming realtors over 25 years ago. Education is very important to them given the ever-changing real estate environment they work in every day. Using their REALTOR knowledge and expertise in the industry, they have served for many years as Directors for Long Island Board of REALTORS (LIBOR), New York State Association of REALTORS (NYSAR), and the National Association of REALTORS (NAR). They have also participated in various committees and task forces. Frank was honored to serve as president for the Multiple Listing Service of Long Island in 2009. The contributions they have made to the local real estate community have earned them various praise and accolades. Frank Urso has been honored as the LIBOR REALTOR of the Year, and has received the LIBOR Community Service Award as well as the MLS Tasso Award for Community Service. Marilyn Urso was named LIBOR Associate of the Year, as well as both Local Chapter and NYS Women's Council of REALTORS Member of the Year. Both Frank and Marilyn Urso have earned the NYS REALTOR Honor Society designation during their careers.
Besides their REALTOR involvement over the years, the Urso's have done much for many of the local community organizations. They were founding members of the Syosset Woodbury Chamber of Commerce. Frank Urso was the first president of that group and has been the organizer as well as Master of Ceremonies each year for the Downtown Holiday Lighting Ceremony held every December. As a Vietnam Veteran, Frank Urso is an active member of both the local American Legion and VFW Posts and proudly carries the American Flag in the color guard for the Memorial Day Parade. The Urso's strong support of the Local Sons of Italy Giuseppe Verdi Lodge along with many other local charities and organizations makes the Urso's an integral part of the Syosset Community.

Contact Marilyn & Frank Urso
Marilyn & Frank Urso's

Listings
This is the moment that you should enjoy the most; looking at the available properties in Long Island; imagining yourself living in the home that you have always dreamed about. You don't want just another database that gives you rehashed property descriptions. You want to walk around the neighborhood from the comfort of your own home.