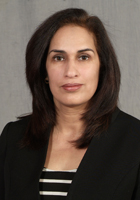 Licensed NYS Salesperson
Neerja is utilizing her Indian heritage and fluency in Hindi to support home buyers and sellers within Long Island's growing Indian community.
"Working with Homes By Mara President and Owner Mara Navaretta and having access to her turnkey realtor services within a supportive environment is a true delight and allows me the ability to ensure quality service and attention for my clients," says Neerja. "It is also equally rewarding to be able to apply my bilingualism in English and Hindi to help overcome any language or cultural barriers that could otherwise prevent Indian home buyers and sellers from taking advantage of Homes By Mara's stellar service and representation."
Navaretta says Neerja is a fine complement to her agency. "Neerja is a true professional who understands the importance of quality and personalized client service," comments Navaretta. "Her professionalism, coupled with her bilingualism, makes her a great asset for our team and clients while supporting our ongoing mission in making our realtor services more accessible for the many nationalities living here on Long Island."
Neerja, who came to the United States in 2001 after growing up in India, holds a Master's Degree in English Literature from Rohilkhand University In Bareilly, India and a Diploma in Fashion Designing from IIFT New Delhi, India. Neerja has had her real estate salesperson license since 2010.

This is the moment that you should enjoy the most; looking at the available properties in Long Island; imagining yourself living in the home that you have always dreamed about. You don't want just another database that gives you rehashed property descriptions. You want to walk around the neighborhood from the comfort of your own home.