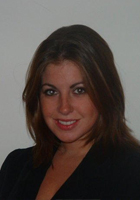 Licensed NYS Salesperson
Homes By Mara Realty is pleased to welcome Samantha of Roslyn, NY as its newest licensed real estate agent. Rosner, who comes to Homes By Mara after having worked for North Site Realty in Syosset, is delighted to be part of Homes By Mara's boutique realty and team.
Prior to working in real estate, Samantha worked in sales selling swimming pools and hot tubs for Poseidon Pool & Spa in Melville, NY, where she discovered her appreciation for selling and interest in real estate. "I have always loved the beauty of selling and having the opportunity to hone in on each customer's unique tastes and desires and then find a way to fulfill their dreams while working within the individual's budget. In working with contractors and landscapers who were installing pools and transforming people's backyards into dream paradises, I realized a new calling and decided to turn my attention to helping people find their dream homes."
As a Roslyn resident with great familiarity of Roslyn and its surrounding communities, Samantha is not only servicing the Town of Oyster Bay area communities that Homes By Mara has always specialized in is also devoting attention to extending Homes By Mara's reach and services into the Town of North Hempstead neighborhoods as well.
Homes By Mara President Mara Navaretta says Samantha is a fine addition to her team of more than 35 agents. "Samantha has a genuine passion for real estate as well as a sincere desire to meet the needs of today's home buyers and sellers," comments Navaretta. "Her understanding of the Roslyn and Town of North Hemptead communities allows us the opportunity to make our services even more accessible to more north shore areas. Her knowledge in real estate and dedication to serving the needs of our clients is transparent and makes her a great asset to both our operations and clientele."
In addition to working with Homes By Mara, Samantha, a Dowling College graduate with a Marketing Bachelor of Arts Degree and a Master's Degree in Adolescence Business Education, is also a teacher at The Urban Assembly School for Criminal Justice in Brooklyn, NY, where she teaches technology and career skills.

This is the moment that you should enjoy the most; looking at the available properties in Long Island; imagining yourself living in the home that you have always dreamed about. You don't want just another database that gives you rehashed property descriptions. You want to walk around the neighborhood from the comfort of your own home.