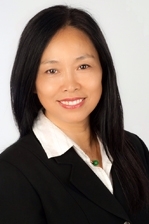 Licensed NYS Salesperson
Sue grew up in China before moving to the United States in 1991, where she planted her roots on Long Island and began working as an IT Programmer of 22 years within such industries as financial, banking, insurance and education. Among vast companies she has worked with include Morgan Stanley in Manhattan, Bank of New York in Manhattan, Equitable in Manhattan, and Jewish Theology Seminary in Manhattan. After over two decades as an IT programmer, she says she opted to switch her focus to real estate because of its life work balance flexibility and her desire to provide service for Asian homebuyers and sellers within Long Island's residential market.
Homes By Mara Owner and President Mara Navaretta says that Sue is a fine addition to her team and operation. "Sue is not only a true professional at heart but has a genuine desire to deliver quality service and to bring her bilingualism in Mandarin and English to help Long Island's home buyers and sellers overcome any potential language barriers that could otherwise prevent them from receiving quality service and representation in fulfilling their real estate needs. It is these desires that make Sue an asset to both our agency and clients we serve!"
Sue has a Master's Degree in Computer Science as well as Bachelor's Degree in Computer Science, both from Dalian Maritime University in China.

This is the moment that you should enjoy the most; looking at the available properties in Long Island; imagining yourself living in the home that you have always dreamed about. You don't want just another database that gives you rehashed property descriptions. You want to walk around the neighborhood from the comfort of your own home.